Do you feel bored to spend your time at home? It seems that you need a wonderful vacation but this time you will spend your holiday in a cave. For those who hunt some great caves as their destination, then they may head to Vietnam. Vietnam has great caves which are worth to visit. When you come here, you should not miss Hang Son Doong Cave in Phong Nha – Ke Bang, Quang Binh Province, Vietnam. This is the biggest cave in Vietnam as well as in the world.
Hang Son Doong in Vietnam – the worth cave to visit
Hang Son Doong Cave in Vietnam is the name of a great cave in Vietnam which is located in Phong Nha Ke Bang, Quang Binh province. Hang Son Doong Cave is considered as the biggest cave in the world that has a length of 3.8km and 90m width. This cave was discovered by a British explorer a few years ago. In fact, all of the local people already know that there was a huge cave in the location but they did not dare to get inside the cave because there is a huge river with a big stream inside the cave.
Tours to Phong Nha – Ke Bang National Park:
Transfer from Hoi An to Phong Nha
Hoi An to Ha Long Bay Tour via Hanoi 7 days
Recommended Route through Vietnam during 15 days
Now, Hang Son Doong Cave becomes the most favorite tourist attraction in Vietnam that anybody must visit whenever they come to Phong Nha Ke Bang national park. This cave looks so wonderful and it is not too dark inside the cave. Besides, there are also some plants found in the cave that makes the cave look more spectacular. You can even visit this cave at night because it is also completed with some lights.
What can you do inside the cave? It seems that this cave belongs to the safest cave in the world where you can play excitedly inside the cave. There are some things to do inside the cave anyway. For instance, you can hang on a rope inside the cave like a Tarzan. This is only done by a professional or those who are brave to do it. You may only walk around the cave to see what you can find inside the cave. Certainly, you can take some pictures for this cave can be the best background for your picture. For those who want to get married, it seems that Hang Son Doong Cave Vietnam can be the best pre-wedding spot to take some pre-wedding pictures.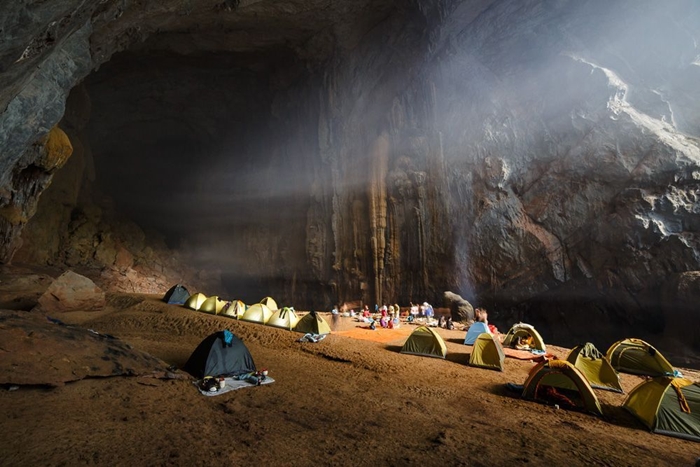 Do you want to visit Hang Son Doong Cave Vietnam? It seems that you really need a special guide to escort you to this place, especially for those who have never gone to a cave before. But, you are no need to worry because this cave is safe for anyone. Since there is a river inside the cave, you may play in the water and get wet along with friends.
Well, those are several things that you need to know about Hang Son Doong Cave which is known to be the biggest cave in the world. It is not only huge, but it is also very beautiful because there are some plants in the cave and there is a huge river inside it.