Khe Sanh – Huong Hoa is a gateway in the west of Quang Tri. Since its establishment, Huong Hoa district in general and highway 9 – Khe Sanh, in particular, are always seen as a wattle-fence and an important area in the fight for the national liberation movement. This is a bridge connecting Vietnam and Laos in two resistance wars against French colonialism and American imperialism as well as in cultural, economic inter-communication.
In history, Huong Hoa land has a long background. The book "O Chau record" written by Duong Van An in 1553 had mentioned about Vien Kieu and Cao Tuyen forests (Huong Hoa nowadays) with their products, taxes regime and commercial exchange activities with a number of countries in the west.
During its crown, Nguyen dynasty paid lots of attention to Khe Sanh Huong Hoa as well. In the third year of Minh Mang (1822) named four villages (Vien Kieu, Tam Linh, Lang Tong and Lang Lien) was Huong Hoa shire – town.
Until in the eighth year of Minh Mang (1827), the shire – town had 15 cantons. In 1834, it turned into Huong Hoa district and it was turned into Thanh Hoa district in the third year of Tu Duc (1850).
In 1886, French colonialism remained 9 cantons: Lang Thuan, Lang Ha, Vien Kieu, Tam Thanh, Lang Lien, La Miet, Tam Linh, O Giang and A Nhi had formed Huong Hoa district until now.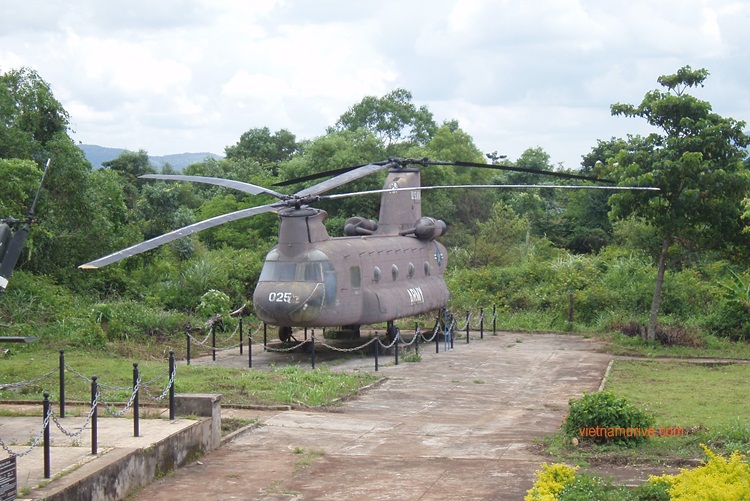 Khe Sanh Huong Hoa, Quang Tri – Photo Vietnamdrive
Huong Hoa was one of the earliest residential areas of primitive people in our country. In Khe Sanh, Huong Lap, A Tuc, Khe Doi, the archaeologists had found stone axes and stone bolts (main labor tools of primitive people).
In the early time, dwellers here were mainly Van Kieu, Pa Co and Pa Hy people. During a long period under the feudal and colonialist's yoke of slavery, people had to endure a miserable life, lacked of food, clothes, medical treatments, and burdened with many backward customs.
From the beginning of XX century to 1930, French colonialists had constructed highway 9 to connect two provinces of Quang Tri and Savannakhet (Laos), Lao Bao prison and sets of cordons, coffee, and avocado plantations. Not standing with the oppression and exploitation of the colonialists and their lackeys, ethnic people groups in Huong Hoa had uprise for their liberation.
Under the leadership of Vietnam Communist Party and Uncle Ho, ethnic people groups in Huong Hoa had unified to fight the common enemy and rebuild a new life.
The fact living in poverty and hunger, living under oppression and heavy exploitation in the past had created a spirit of solidarity, patriotism and enemy hatred of ethnic people groups in Huong Hoa.
The revolutionary movement in Huong Hoa developed very quickly. The first communist cell established in 1941 by Mr. Le Hanh was the precursor of Huong Hoa Party leadership, people in the district had followed the instructions and principles of the Party, protected the independence, launched an intensive production movement, fought against illiteracy, held general election, implemented the tasks of hardworking, thrift, integrity, truthfulness, and eliminated backward customs.
During 9 years of resistance war against the French, Communist Party and people of Huong Hoa actively contributed human and material resources to the fight and its final glorious victory.
After the Geneva Agreement, from July 20, 1954, Huong Hoa district and Quang Tri province became the border area of the South adjacent with the socialist North and Ha Lao liberation area.
Seeing Huong Hoa as the strategic gateway of the country with an important communication route of highway 9, the American and their lackeys deployed by a big armed forces and together with the South Vietnamese government administration they tended to turn this land into a white belt (no man's land) to stop revolution forces from the North and Laos.
The American built posts and bases running through Huong Hoa district bombed and sprayed chemicals, herbicides for mass extermination. American imperialists tried to establish a "fire line" along highway 9 to separate our rear from the front.
Responding to the appeal of Uncle Ho and under the direct leadership of district Party, Huong Hoa people and army had unified together with the regular forces and Quang Tri provincial local soldiers to launch several attacks, and turned highway 9 into a graveyard for the invaded American.
The most typical fight of Huong Hoa people and army in the end of the war was Khe Sanh victory on July 9, 1968.
Quang Tri Management Board of relics and high interest sights