From Chan May Port to Hoi An Ancient city is 83km. It takes us 1.45 hours to drive straight ahead. Many guests find this journey for their cruise excursions when traveling to Chan May port. And, if you want a professional driver or a tour to Hoi An from Chan May Port, Vietnam Drive is here to support you.
What can you visit from Chan May Port to Hoi An on the way?
There are many some nice sites to stop on the way from Chan May Port to Hoi An City, Vietnam including:
Hai Van Pass – Bao Huy
Hai Van pass – Sea cloud Pass with the great view during dry days is waiting for exploration. If you like to take pictures, Hai Van pass is the great stop for you.
The Dragon Bridge is a huge yellow dragon crossing the Han River in Da Nang. The dragon takes the important role in the cultural life of Vietnamese people. Thus, this Drgong Bridge can consist as the symbol of Da Nang at the moment.
Dragon Bridge in Da Nang – Vietnamdrive
The Lady Buddha Statue at Linh Ung Pagoda at Son Tra Island is 67m high. This statue is the tallest on in Vietnam, the height of the statue is equivalent to a 30-storey building. From the pagoda, tourists can enjoy great views of the city and the sea. During the trip Chan May to Hoi An, the guests should visit this place after visiting Hoi An City to save the time of movement.
What to do in Hoi An Ancient City?
Hoi An is an ancient city with hundreds old houses, traditional culture, unique lifestyle and great cuisine.
You will explore the daily life when you walk along the old streets in the old city or visit the local market.
Hoi An Ancient City – Bao Huy
You can learn more about the culture of Hoi An with the influence of the Chinese and Japanese through old houses, temples and the Japanese Bridge. (1) Tan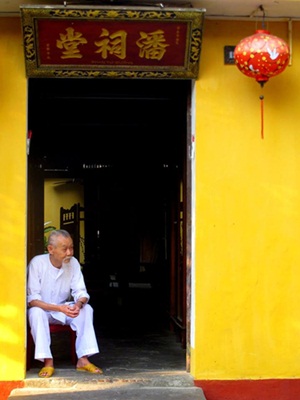 Ky old house should be chosen to visit. This old house has the unique design of the old houses in Hoi An Old City. (2) The Japanese Bridge is the old bridge built by Japanese traders; this becomes a symbol of Hoi An City. (3) The Chinese Assembly Halls are around the ancient city of Hoi An; you can choose to visit Quang Dong Hall or Phuoc Kien Hall.
Another activity in Hoi An City attracts many guests, that is tailoring. You can choose fabrics including silk and the other materials for your clothes. These are good gifts during your holidays. Tailors in Hoi An makes them for you very very quickly; just around 3 to 4 hours, you can get nice suits and dress. Thus, you should not miss visiting a silk village or a tailor shop before exploring other things in Hoi An to get tailoring.
During your trip from Chan May to Hoi An, you cannot miss taste local food in Hoi An for lunch. Local food has many different dishes for you to choose: Chicken Rice, White Rose Dumpling, Cao Lau, Quang Noodle or Pancake.
Above are the top things to do in Hoi An and on the way from Chan May Port to Hoi An City. You need more advice or want to book this trip before traveling. Please tell Vietnam Drive to get support!