Where are good places for children to play in Hanoi Vietnam? Especially, during summer holidays, Hanoi is often very warm. Therefore, the criteria for choosing a place to play is spacious, airy and especially not too far to save time.
Places for children to play in Ha Noi
Ho Tay Water Park
This is considered one of the best places when choosing a place to have fun. The parks are very spacious, lots of greenery and plenty of games to play. Besides, there are also many small children, your children can exchange and learn many experiences. Ho Tay Water Park is probably the place that any child wants to go.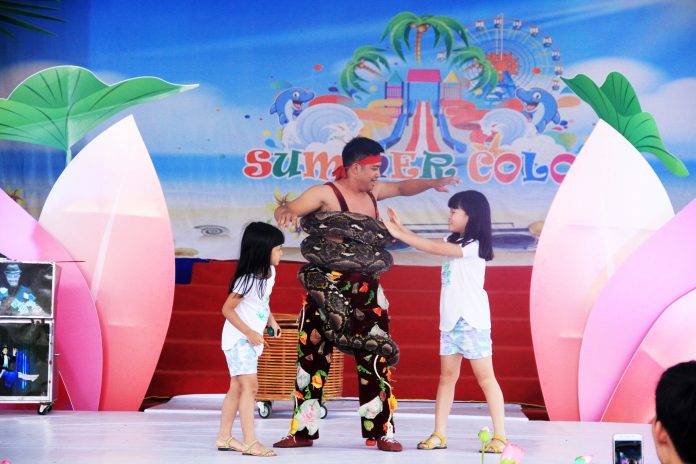 Ho Tay Water Park is an ideal place for relaxation, recreation and a healthy cultural playground for children. Coming to Ho Tay Water Park, the children can enjoy a lot of games both underwater and land. On the special occasions, Ho Tay Water Park organized a photo contest "Summer Baby" as a gift to children in this summer. What's more, fun to show off your little angel just received a gift for your baby for summer holidays.
Nature museums or ethnological museums
The museum will be the ideal address for have fun, explore and learn.  One of the famous museums for children "learn that play, the play that learns" is the Vietnam Museum of Ethnology. On special occasions, the museum welcomes many children come here to enjoy and participate in various activities to help children familiarize themselves with interesting folk games.
Tiniworld Playground
Tini World is a modern park with over 20 corners that is divided into separate areas suitable for all ages and interests of children.
It's a playground with lots of games like a ball house, a sandbox, a fishing lake, Hot Wheels, Barbies corner, Baby Box, DIY cooking's corner. Not only that, there is also candy buffet that attractive for young children.  In particular, the baby will have the opportunity to put on the creative air with an exciting class at Tini World.
Tini World is available in many major shopping centres in Hanoi.
The circus, theatre
On the occasion of the 1/6, the central circus and Vietnam Water Puppet Theater, Youth Theater will organize many exciting shows for children. On this day, the children will also receive many promotions when buying tickets for the show.
Circus and water puppetry are the arts that children love very much. This art not only helps children to relax but also adds knowledge and love folk art.
Source: chudu24